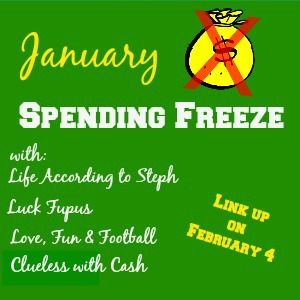 Happy New Year friends! I'm so excited for today's post. I'm joining Steph from
Life According To Steph
and Kate from
Another Clean Slate
in a January Spending Freeze linkup. Linkups are pretty darn popular here in blogland, and I see their advantages, but until this point I haven't really felt compelled to join in on one.
The January Spending Freeze is screaming my name though. Let's just say I HAVE ISSUES! I mean did you guys read my post on
How To Spend A Month's Allowance On Your Lunch Break
? It's obscene.
I'm hoping this spending freeze will shed some light on why I feel I need to spend, spend, spend. And if I'm being honest, I'm never going to get the new Prada on my
101 in 1001
unless I learn to SAVE. Besides, Santa was really good to me this year so if there's ever going to be a time that I can go an entire month without buying myself something shiny and new, it's now.
Wish me luck and by all means, please join in, misery loves company.
The Rules
1. The spending freeze lasts from January 1 - January 31.
2. No outings that are not budgeted for prior to 1/1 - no impromptu lunches, dinners, or nights out. Example: I have a mani/pedi appointment on 1/11 which is budgeted for (full disclosure I called and booked the appointment yesterday knowing the freeze was starting today) and it's ok to spend money on that, but I must stay within the budgeted amount,
3. No purchases that are not budgeted for prior to 1/1 - no daily coffee runs, lunch break trips to Nordstrom, magazines, etc.